Too many people dread the gym and dread working out. Guess what, and this might be a news flash to many of you, so do I. Seriously... I really do. BUT I enjoy playing and having fun. That's what life should be all about. Beyond sissy situps, squats, and pushups you have Sincere Hogan's "New Warrior Training". New Warrior Training is about playing NOT working out. Go back to the days you truly enjoyed life and moving like a kid. That's what it's about. Learn
how to play effectively, safely, intensely, and get fit at the same time as truly enjoying every bit of the process.
Personally I always love learning new things and Chicagoland you have that opportunity coming to you on May 14th only at Synergy Kettlebell Training. Sincere Hogan, of New Warrior Training & one of the best of the best fit coaches worldwide, and I are teaming up for an exclusive workshop on the ultimate blending of bodyweight movements and Kettlebells. What you will learn will be things you've never seen before and some you have. Time to learn how to play baby and become a better at who we are.
I can say a lot of things about this, but who better than to hear all about it straight from THE MAN himself...
Click Here to register now for the Chicago New Warrior Training Workshop upcoming on May 14th at Synergy Kettlebell Training.   *IF YOU'RE A SYNERGY KETTLEBELL TRAINING MEMBER YOU GET A NICE DISCOUNT ON THE WORKSHOP SO CONTACT SINCERE OR BOB FOR THE COUPON CODE.
In case you can't make it, grab your copy of the brand spankin new DVD released directly from Sincere Hogan today!
Sincere Hogan's New Warrior Bodyweight Animal Training DVD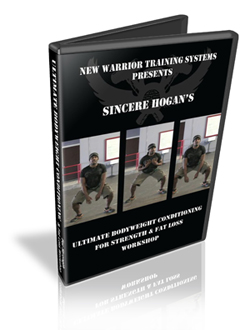 The Ultimate Bodyweight Training DVD for strength & fat loss.